For many of you, this current moment is understandably unsettling. The question we are each asking is, "who is in charge here?" That is the question we ask when we are afraid, and in many ways is the question we ask when we are cynical though maybe in a different tone. We know that the Christian faith has declared over and over again that it is God who is control. God's authority and care are at the heart of the Psalmist's honest prayer in Psalm 121 and the Apostle Paul's encouragement to the Church in Rome in Romans 8:35–39.

And while we may know the answer, one of the most common practices in our faith to get that truth into our bones is the practice of prayer. During this unprecedented season, we are renewing our call to our church family to be a praying church.
We are, for this time, going to be gathering every Monday, Wednesday, and Friday for Morning Prayer via Zoom and Facebook Live.
Mondays - Wednesdays - Fridays
8:00 am to 8:20 am
All are welcome including kids.
Download the Daily Prayer Guide (below) to follow along.
Submit prayer requests (below) to receive prayer.
Here are the essential details for how you can join:
If you'd like to participate:
If you'd like to watch live or watch later:Daily Readings for this Week
During Morning Prayer, we pause to read scripture, reflect, and pray. If you'd like to follow along thorughout the week, here are the daily readings:
for the week of April 5th
Palm Sunday: Ps. 24, 29 • 103 | Zech. 9:9-12, 12:9-11, 13:1,7-9 | 1 Tim 6:12-16 | Mark 11:12-25
Monday: Ps. 51 • 69:1-23 | Lam. 1:1-2,6-12 | 2 Cor. 1:1-7 | Mark 11:12-25
Tuesday: Ps. 6, 12 • 94 | Lam. 1:17-22 | 2 Cor. 1:8-22 | Mark 11:27-33
Wednesday: Ps. 55 • 74 | Lam. 2:1-9 | 2 Cor. 1:23-2:11 | Mark 12:1-11
Maundy Thursday: Ps. 102 • 142, 143 | Lam. 2:10-18 | 1 Cor. 10:14-17, 11:27-32 | Mark 14:12-25
Good Friday: Ps. 95, 22 • 40, 54 | Lam. 3:1-9, 19-33 | 1 Pet. 1:10-20 | John 13:36-38
Holy Saturday: Ps. 95, 88 • 27 | Lam. 3:37-58 | Heb. 4:1-16 | Rom. 8:1-11
Easter Sunday: Ps. 148, 149, 150 • 113, 114, 118 | Exod. 12:1-14 | Isa. 51:9-11 | John 1:1-18
for the week of March 29th
Monday: Ps. 31 • 35 | Exod. 4:10-20(21-26)27-31 | 1 Cor. 14:1-19 | Mark 9:30-41
Tuesday: Ps. 120 - 123 • 124 - 127 | Exod. 5:1-6:1 | 1 Cor. 14:20-33a,39-40 | Mark 9:42-50
Wednesday: Ps. 119:145-176 • 128, 129, 130 | Exod. 7:8-24 | 2 Cor. 2:14-3:6 | Mark 10:1-16
Thursday: Ps. 131, 132, 133 • 140, 142 | Exod. 7:25-8:19 | 2 Cor. 3:7-18 | Mark 10:17-31
Friday: Ps. 95, 22 • 141, 143 | Exod. 9:13-35 | 2 Cor. 4:1-12 | Mark 10:32-45
Saturday: Ps. 137, 144 • 42, 43 | Exod. 10:21-11:8 | 2 Cor. 4:13-18 | Mark 10:46-52
Sunday: Ps. 24, 29 • 103 | Zech. 9:9-12, 12:9-11, 13:1,7-9 | 1 Tim 6:12-16 | Mark 11:12-25
The "•" between Psalms designate Psalms for the Morning (front end of the "•") and Psalms to be read in the Evening (back end of the "•").
A Prayer Guide for Daily Prayer
This prayer guide was compiled by Pastor Bliss and is intended to serve as a resource to cultivate and guide the rhythm of daily prayer. It is designed to be used for Morning Prayer, Noonday Prayer, and Evening Prayer. During this time, many individuals, groups, and families have found that the rhythm of praying morning and evening prayer together helps add a structure of turning our eyes to Christ daily, especially during this unprecedented season.
This guide is simple and accessible enough to be used by yourself, with others online, or even with children. If you are using these with your children, do as much or as little as suits you.
Table of Contents
Letter from Pastor Bliss
Morning Prayer Guide
Middday Prayer Guide
Evening Prayer Guide
Special Prayers for a Time of Fear
A Liturgy for Medical Providers
Breath Prayer Guide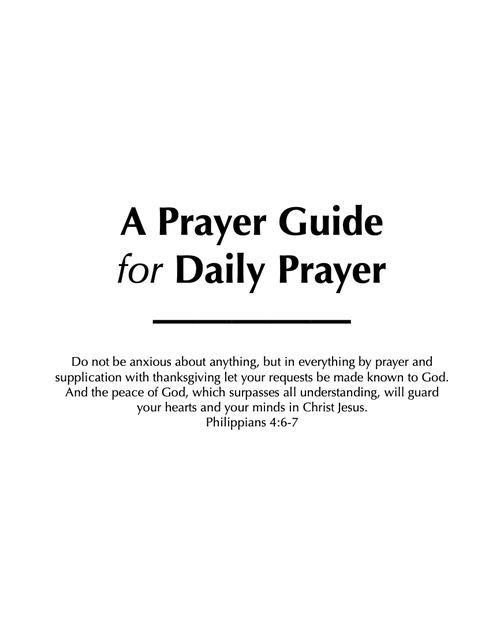 We'd love to be praying for you specifically in the midst of the Coronavirus outbreak. These requests are received by Pastor Bliss or a member of the Pastoral Team.

Please fill out the form below and we will follow up with you.
As we continue further up and in to this unprecidended and disoreinting space, God has not left us to our own. In this journey from life to resurrection, as we dip down into the valley of death He has given us as a means of grace in the prayers of lament. Below are a few resources to learn mor about what Paul Miller describes as a prayer that "puts us in an openly dependent position, where our brokenness reflects the brokenness of the world. It's pure authenticity." Prayers of laments are refusals to settle for the way things are. They are acts of relentless hope that believes no situation falls outside God's capacity for transformation. No situation falls outside of God's responsibility.

Writing Your Own Lament
by Elliot Grudem |
Leaders Collective
The Psalmists typically follow a basic pattern when they write their laments.
Direct Address | Address God (usually Yahweh) directly, expressing dependence on him. You have nowhere else to turn; to turn anywhere else is blasphemous idolatry.
Lament / Cry for Help | Express your specific compliant to God.
Confession of Sin / Assertion of Innocence | Sometimes you suffer because of something you've done. Other times you suffer because of something done to you. And other times it's a combination of both. Confessing your sin is a sign of humility; taking responsibility for another's sin is refusal to admit hurt and can be a sign of arrogance.
Imprecation | Imprecation leaves your desires for justice, vengeance, and vindication with God, asking him to act. This side of the cross, imprecation should include a longing for repentance, meaning the punishment for the sin falls fully on the shoulders of Christ. It can also include a longing for those in authority (often the government) to execute justice.
Confidence in God's Response | The expression of confidence in God often starts with, "But you..." This is a theologically full statement, often including applicable attributes of God.
Praise | Most laments end with a statement of praise to God.
Take 30 minutes to write out your own lament following the above pattern.
Consider reading through different
Psalms of Lament
for ideas and even for words to include in your own.