For many of you, this current moment is understandably unsettling. The question we are each asking is, "who is in charge here?" That is the question we ask when we are afraid, and in many ways is the question we ask when we are cynical though maybe in a different tone. We know that the Christian faith has declared over and over again that it is God who is control. God's authority and care are at the heart of the Psalmist's honest prayer in Psalm 121 and the Apostle Paul's encouragement to the Church in Rome in Romans 8:35–39.

And while we may know the answer, one of the most common practices in our faith to get that truth into our bones is the practice of prayer. During this unprecedented season, we are renewing our call to our church family to be a praying church.
A Prayer Guide for Daily Prayer
This prayer guide was compiled by Pastor Bliss and is intended to serve as a resource to cultivate and guide the rhythm of daily prayer. It is designed to be used for Morning Prayer, Noonday Prayer, and Evening Prayer. During this time, many individuals, groups, and families have found that the rhythm of praying morning and evening prayer together helps add a structure of turning our eyes to Christ daily, especially during this unprecedented season.
This guide is simple and accessible enough to be used by yourself, with others online, or even with children. If you are using these with your children, do as much or as little as suits you.
Table of Contents
Letter from Pastor Bliss
Morning Prayer Guide
Middday Prayer Guide
Evening Prayer Guide
Special Prayers for a Time of Fear
A Liturgy for Medical Providers
Breath Prayer Guide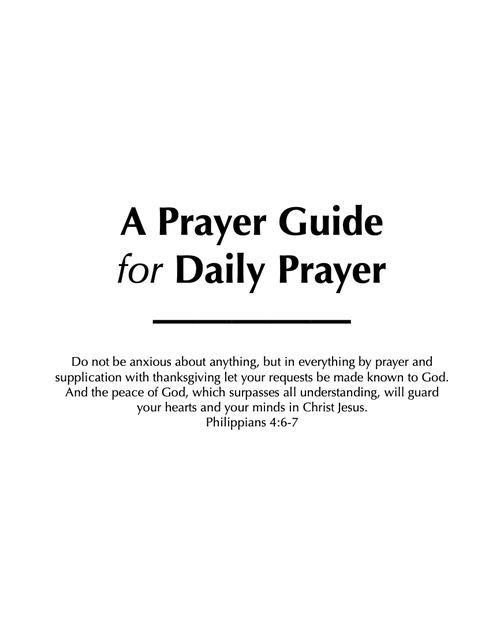 Resources for Spiritual Formation
Are you soul-weary? Do you struggle to make time for God in the midst of a packed schedule? Or do you sometimes stay so busy doing things for God that you can t relax and just be ? Jesus faced amazing pressure and overwhelming demands throughout his ministry, but he did not experience the burnout so common today among Christian ministers and laypersons. You can learn the rhythm of living that Jesus demonstrates the Cycle of Grace throughout the Gospels.
THE CYCLE OF GRACE examines 4 components of a grace-filled life: 1. Acceptance
In the Cycle of Grace, which we see modeled in the life of Jesus, the starting point is acceptance. Jesus heard the voice of acceptance from his Father before he did anything in ministry (demonstrated at Jesus's baptism, Matthew 3:13–17). Jesus knew that God loved him and was pleased with him, apart from anything he accomplished.
2. Sustenance
In the Cycle of Grace, after acceptance comes sustenance—those things God provides us that nourish us and keep us healthy. Jesus while on earth engaged in certain practices that created space for God's grace ( the kind invasion of his life into ours) to replenish, refill, and renew his soul. Practices like prayer, community, worship, creation, silence and solitude, etc. These are just a few examples of the rhythms of life that kept Jesus going.
3. Significance
Jesus' life was a signpost pointing to God ("I am" statements). Grace moved through Jesus' life. Jesus's life wasn't significant primarily because of what he did, but because of who he was. His very presence carried the life and love of the Father. Before he ever did a miracle or gathered a crowd for teaching, Jesus was making an impact because of that built-in significance. Jesus knew who he was and what he came to do. He didn't have to strive more and do more in order to be significant. In fact, sometimes he avoided doing things people wanted him to do, because it was most important to be obedient to his Father (Mark 1:35–39).
4. Fruitfulness
Rooted in love and acceptance from God, nourished and filled up by those things that gave life to his soul, and knowing who he was and what he came to do, Jesus stepped into active ministry and life with others. He preached the good news, he healed, he raised the dead, he cast out demons, and he discipled. Jesus had incredible fruit! But his acceptance wasn't tied to his achievements. His achievements flowed out of his acceptance and unity with the Father. He continuously lived out the other three parts of the cycle, connecting with his Father, engaging in sustaining activities, and acknowledging the significance of who he was, not just what he did.
This cycle is not only the way in which Jesus lived, but is also the way, through the power of the Spirit that you and I are invited to live. Maybe a more potent way of putting it is that this cycle of grace is how God wants you to live.
If you'd like to dig deeper, be sure to look into the following resources.
BooksYouTube Videos by Trevor Hudson and Jerry Haas
As we continue further up and in to this unprecidended and disoreinting space, God has not left us to our own. In this journey from life to resurrection, as we dip down into the valley of death He has given us as a means of grace in the prayers of lament. Below are a few resources to learn mor about what Paul Miller describes as a prayer that "puts us in an openly dependent position, where our brokenness reflects the brokenness of the world. It's pure authenticity." Prayers of laments are refusals to settle for the way things are. They are acts of relentless hope that believes no situation falls outside God's capacity for transformation. No situation falls outside of God's responsibility.

Writing Your Own Lament
by Elliot Grudem |
Leaders Collective
The Psalmists typically follow a basic pattern when they write their laments.
Direct Address | Address God (usually Yahweh) directly, expressing dependence on him. You have nowhere else to turn; to turn anywhere else is blasphemous idolatry.
Lament / Cry for Help | Express your specific compliant to God.
Confession of Sin / Assertion of Innocence | Sometimes you suffer because of something you've done. Other times you suffer because of something done to you. And other times it's a combination of both. Confessing your sin is a sign of humility; taking responsibility for another's sin is refusal to admit hurt and can be a sign of arrogance.
Imprecation | Imprecation leaves your desires for justice, vengeance, and vindication with God, asking him to act. This side of the cross, imprecation should include a longing for repentance, meaning the punishment for the sin falls fully on the shoulders of Christ. It can also include a longing for those in authority (often the government) to execute justice.
Confidence in God's Response | The expression of confidence in God often starts with, "But you..." This is a theologically full statement, often including applicable attributes of God.
Praise | Most laments end with a statement of praise to God.
Take 30 minutes to write out your own lament following the above pattern.
Consider reading through different
Psalms of Lament
for ideas and even for words to include in your own.
THE PRAYER OF EXAMEN

Adapted from: 50 Ways To Pray, Teresa A. Blythe

The prayer of Examen is a simple prayer that welcomes Jesus into the conversation of our lives. Into the intimate structures of our minds, souls, hearts, and relationships. It is based on the premise that Jesus is closer to us than we know. He wants to hear our honest reactions to the experiences of our daily lives. When we are open and honest with God about the things that concern us, we give him the space to come close and speak a word of life, of hope, of redemption to us. As we welcome him in and submit to his leadership, we begin to see that there is a greater plan at work right in the midst of the messiness of our everyday lives.

Here is a simple version of the Prayer of Examen to help you begin:

1. Find a quiet place and make yourself comfortable.

2. Become aware of God's presence. Rest silently in his love for a few moments.

3. Ask the Holy Spirit to lead you as you review your day together.

4. If you could relive any one moment that brought you joy, which would it be? What happened in that moment that made it so life-giving? Sit with that moment and let it give you life again. What does God want you to know about this experience? Express your gratitude to him.

5. If you could go back and change any one moment of the day, which would it be? What made that moment so difficult? Sit with that moment in the light of God's love and allow yourself to feel and express whatever emotion you have. Offer that moment to God for healing and help. What does he want you to know about this experience? Is there something that needs be confessed, made right or explored more with a trusted friend?

6. Looking ahead to tomorrow, ask for God's grace to carry out whatever he has placed on your heart during your time of review together.


We'd love to be praying for you specifically in the midst of the Coronavirus outbreak. These requests are received by Pastor Bliss or a member of the Pastoral Team.

Please fill out the form below and we will follow up with you.