Portico Kids is temporarily not meeting in person. If you would like to receive our Portico Kids Home Videos, please email our Director of Portico Kids, Kendra Aylor, at

[email protected]

.
Here at Portico we are "creating churches for future generations." This vision allows us the opportunity to place particular emphasis on investing in our children. The Portico Kids team, along with every ministry of Portico Church, is gospel-centered in all that it does. The vision of Portico Kids is to give every child an accurate picture of God and to equip every parent to be the primary spiritual influence in the life of their child.
Scroll down for a more detailed introduction to our Portico Kids ministry!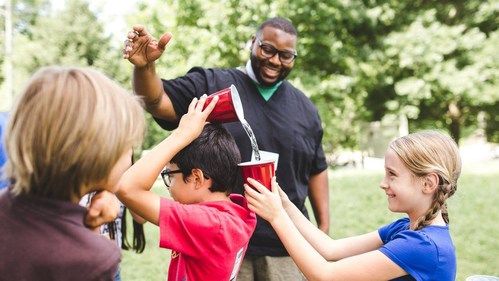 The Areas of Portico Kids
Peace of Mind | Check-In & Security
Kids check-in begins 10 minutes before each service. Volunteers are ready to welcome kids into rooms at this time.
All Portico Kids volunteers are background checked, and all Portico Kids leaders are Investor members of Portico Church.
Added Convenience | Mother's Room
This space is available to women who are nursing or wish to feed their little ones in a comfortable, more private, quiet place. The service is streamed into the room. You can find the Mother's Room in the Nursery, Room 102.
The Lessons | A Quick Overview
Portico Kids has adopted A Sure Foundation curriculum from ChildrenDesiringGod for use with our babies and toddlers in the Nursery (6 weeks old- crawling) and Corner (walking - kids under 3 years old).

Portico Kids has adopted The Gospel Project curriculum from www.gospelproject.com for use with kids ages 3 years through 6th grade in the Theater, Station, Playground, and Lodge. This is a chronological journey through the Bible. Children learn how each and every Bible story points to Christ and God's plan to save us.
For more info regarding Portico Kids, please email Kendra Aylor, Director of Portico Kids, at
[email protected]
.
We'd love to hear from you. Fill out the form below to get started.