The Women's Ministry at Portico provides a place for women to grow in their relationship with the Lord Jesus, to grow in relationships with each other, and to serve the Charlottesville community.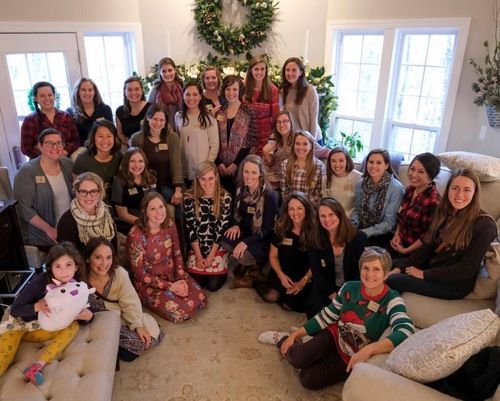 Colossians 3:16
Let the word of Christ dwell in you richly, teaching and admonishing one another in all wisdom, singing psalms and hymns and spiritual songs, with thankfulness in your hearts to God.

Women in different seasons of life meet to study the Word of God. By hiding God's Word in our hearts; the Holy Spirit transforms our hearts, minds, and lives by His power
Titus 2:1, 3-5, 11-14
But as for you, teach what accords with sound doctrine.

Older women likewise are to be reverent in behavior, not slanderers or slaves to much wine. They are to teach what is good, and so train the young women to love their husbands and children, to be self-controlled, pure, working at home, kind, and submissive to their own husbands, that the word of God may not be reviled.

For the grace of God has appeared, bringing salvation for all people, training us to renounce ungodliness and worldly passions, and to live self-controlled, upright, and godly lives in the present age, waiting for our blessed hope, the appearing of the glory of our great God and Savior Jesus Christ, who gave himself for us to redeem us from all lawlessness and to purify for himself a people for his own possession who are zealous for good works.

The women of Portico intentionally walk alongside one another to share the gospel with one another, to encourage each other, and to equip each other in the Christian faith through the Word of God and prayer with the goal of spiritual maturity.
Hebrews 10:24-25
And let us consider how to stir up one another to love and good works, not neglecting to meet together, as is the habit of some, but encouraging one another, and all the more as you see the Day drawing near.

Playdates - Recurring 2-3x/ month. Women who have small children gather to talk about the busy season of being a mom and allow their kids to play together. We will share a parenting resource and pray for each other.

Blend - A party at the end of the summer to connect women moving to Charlottesville to the women already attending Portico. We will have small group discussion times centered around the Word of God and pray for one another.

Advent Wreath Making - Women gather to make Advent Wreaths to use with their family as they read scripture together to build anticipation for the celebration of Jesus' birth on Christmas. We will learn how to treasure Christ in our traditions.

Christmas Cookie Exchange - The Women of Portico exchange cookies to celebrate Christmas together and moms bring their daughters. We will read a children's book about Jesus' birth and the sing Christmas Carols.

Mother's Day Brunch - The women of Portico put together a party to honor the moms of Friendship Court.

Matthew 11:28-30
Come to me, all who labor and are heavy laden, and I will give you rest. Take my yoke upon you, and learn from me, for I am gentle and lowly in heart, and you will find rest for your souls. For my yoke is easy, and my burden is light.

The women of Portico have a retreat each year to rest and remember what the Lord has done together.
In The Beginning: A Study In Genesis
This study dives deeply into studying the God in whose image we bear, so that we would have a greater understanding of the design He set forth in creation and understand how we can overcome temptation and ultimately sin through the promise set forth in Christ Jesus.